The Lugana and Lake Garda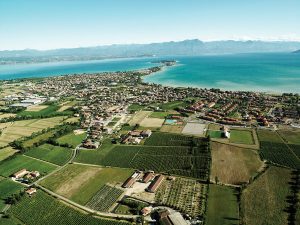 Lugana is the name of a magical land nestled within the ancient Quadrilateral defence system of the Lake Garda region, bordered by Sirmione and Pozzolengo north and south, Desenzano and Peschiera del Garda east and west (with Lonato del Garda being the firth town).
The Lugana wine region encompasses two provinces (Brescia and Verona) and two regions (Lombardy and Veneto) in the morainic plain south of Lake Garda.
The Lugana microclimate, which benefits from the temperate breezes of Lake Garda, is mild and seldom subject to sharp changes in temperature between night and day. It truly is the perfect "climatic cradle" for nurturing and enhancing the peculiar characteristics of grape cultivars like the Turbiana
Those of Lugana are stratified clays of morainic origin and are sedimentary in nature. They are predominantly calcareous and rich in mineral salts, and in the hillier part of the D.O.C. they become more sandy. This is not easy ground to work: just as it is compact and hard during times of drought, it becomes soft and muddy when it rains.
However, it is these very chemical and physical features that make it the source of Lugana's organoleptic qualities, because they give the wine clean, powerful scents that combine hints of almonds and citrus fruits, as well as acidity, tanginess and a well-balanced structure.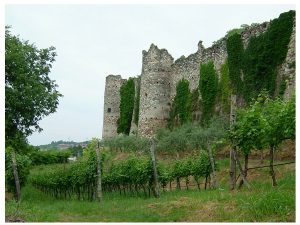 Pozzolengo is the doorway to the morainal hills of Lake Garda, in the Province of Brescia, few miles to Verona and Mantua. Pozzolengo is an old town,with important evidences of the past in the green of the morainic hills.

The town is situated on the top of Monte Fluno hill and right here it was built an imposing castle along with its ancient walls. Inside of them there is still visible a medieval village dated back to XI century which is still today inhabited.